All Four Seasons of Weather in One Weekend! (Oh Wales…)
Hello blog readers!  This weekend was NUTTY only because we have had insane weather.  (Really we did.) Friday night, at 9pm when Neal went to walk Freddy… we opened the door to discover that 3inches of snow had fallen in just three hours.  That made this lady very irritated and worried that my weekend was about to go up in smoke.
Then, we woke up on Saturday peered out the window and surprised to find that the majority of the snow had melted.  Woo-hoo!  Knowing that we could safety drive, we headed out for a mini adventure.Before we hit the road we snagged some snacks, and imagine to my surprise to find Dr. Pepper! It seems like such a small deal, but I don't remember the last time I had a Dr. Pepper.  Needless to say,  I was pretty jazzed:
Our first stop was Flint, or really diversion.  I spotted the ruins of a castle and bless Neal's heart he actually stopped to humor this castle loving American.
As we arrived at the gates, we discovered that the castle was closed…for the day or the season, we were not sure…but I wasn't too happy about it:
From Flint, we headed to Prestatyn in hopes to have lunch looking out to the Irish Sea.  I wanted to walk around on the the beach… but oh-my-goodness was it ever windy.
My frozen fingers snapped all of a bout 10 pictures, and then we headed for our next Welsh castle of the day. We headed about 15 minutes to Rhuddlan Castle in Northern Wales, another CADW site (but I checked that it was open in my handy dandy iPhone app.)  Well, imagine to my disappointment to find that this castle was closed too.  Grrr….
We called it quits and headed home…where we had a yummy curry for dinner and I enjoyed watching Sex and the City, American Girl in Paris (Part 1 and 2), perfect ending for Saturday.
Now when we woke up on Sunday (get this) it was actually SUNNY!  Woah.  All of the snow was gone, I could hardly believe that snow was sitting there less than two days before.  Crazy Welsh weather.  We decided to walk into town peek into the shops, snag some Starbucks and then head to see Lincoln.
Now I have to admit, I am a sucker for American history… I was in LOVE with this film.  It was in short, brilliantly done.   I would recommend seeing it!
All in all, it was a great weekend.  We got out of the house… saw some sights, enjoyed the sunshine and had a nice refresher weekend without overdoing it.  Next weekend we are off to Southern Wales to see more castles and sights.  Be on the lookout for a photo filled post come Monday evening!
I hope you all had a wonderful weekend as well…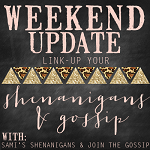 XO,